Jones Alumni and Alumni Parent News
Brought to you by Friends of Jones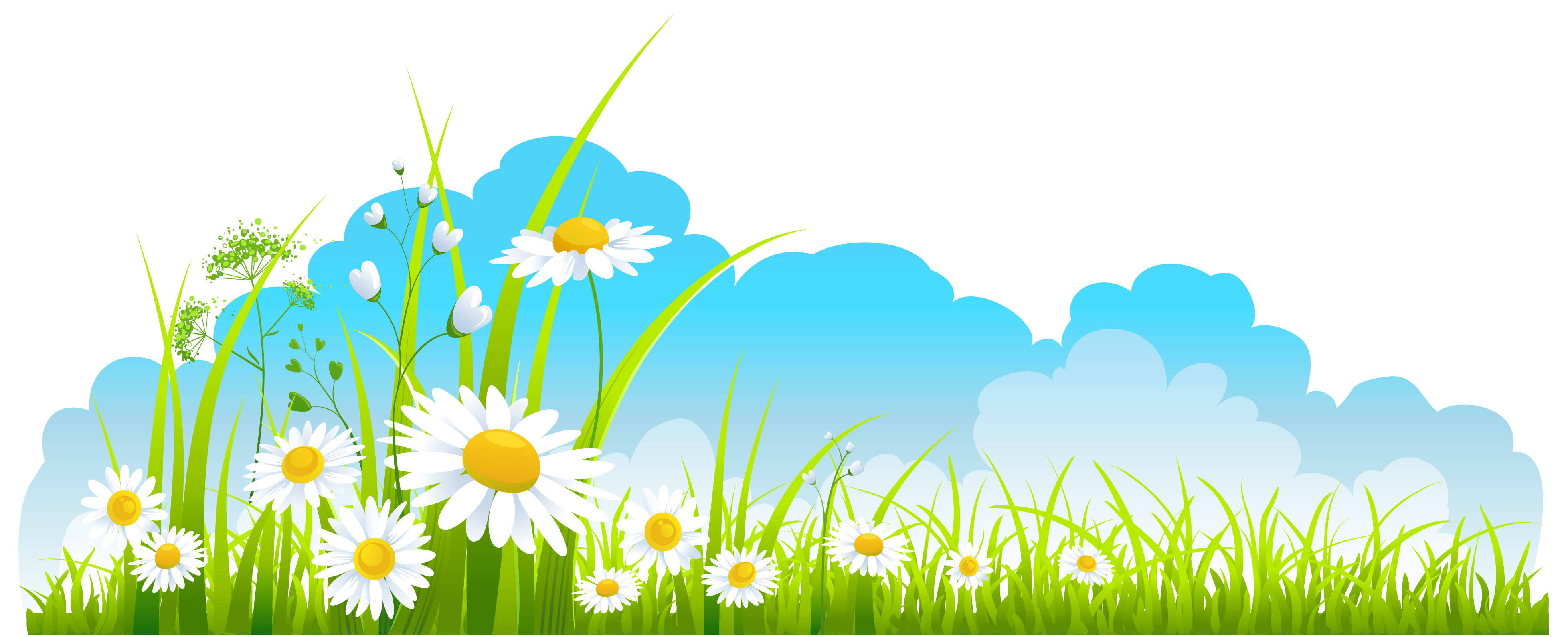 Spring greetings Jones alumni and friends!
What a special and exciting time of year. The city is finally starting to show signs that warmer weather is here to stay. We recently hosted welcome nights for the newly-admitted Class of 2023 students and their parents, and our current students, faculty and staff are preparing for summer break. On June 13th, members of our Class of 2019 walked across the stage of the Auditorium Theatre to receive their diplomas. It's truly quite impressive to see where our Jones Eagles will spread their wings for their next adventures.
The past couple of months at Jones have been extraordinarily busy, filled with A.P. exams, final projects and papers, junior and senior proms, continued spring sports, many special senior class celebrations and our annual Spring Gala hosted by Friends of Jones at the Palmer House.
As this is our third electronic alumni newsletter, we have been grateful to those of you who have reached out and shared your updates. We will continue to publish these as we receive them. We have loved seeing alumni on campus attending sporting events, theatre and musical performances or simply stopping by campus during a visit home from school.
We invite you to stay in touch and let us know what you are up to -- we love all the comments on Facebook and Instagram! And remember to invite other Jones alums you know to sign up for the Jones Alumni Network at www.friendsofjones.org/alumni.


Jones Student Highlights
Seeing the World -- Spring Break Adventures
Many Jones College Prep students were fortunate to travel over spring break to see some of the world's most beautiful and historically significant countries. This year, students traveled with faculty chaperones to Peru, Greece, China, Ecuador and Spain. Students studied the cultural, political and historical aspects of these countries all year to help prepare for their trips. These immersion experiences are organized by our Jones faculty every year and are designed to be opportunities for students to sharpen their language skills, as well as gain first-hand knowledge of the sights, sounds, smells, cuisine, traditions and adventures of these unique destinations. All arrived home tired and inspired!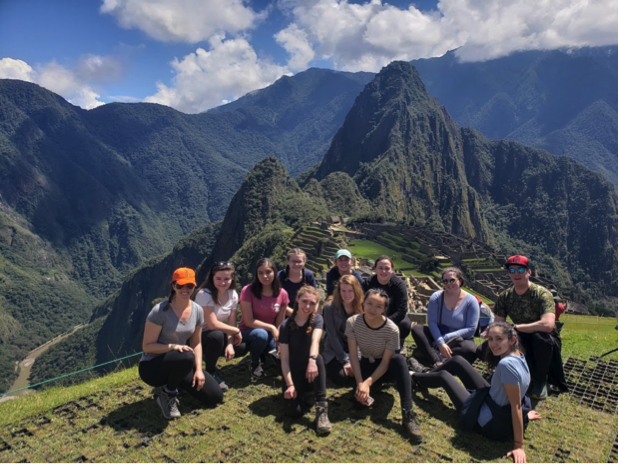 Students enjoying the view at Machu Picchu, Peru.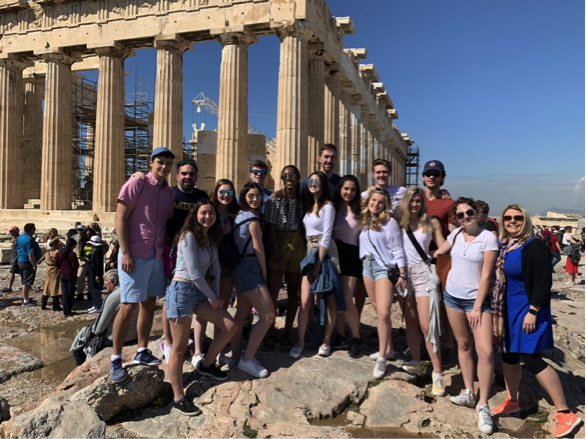 Student group in Greece

Telling the Stories -- Jones Journalism Program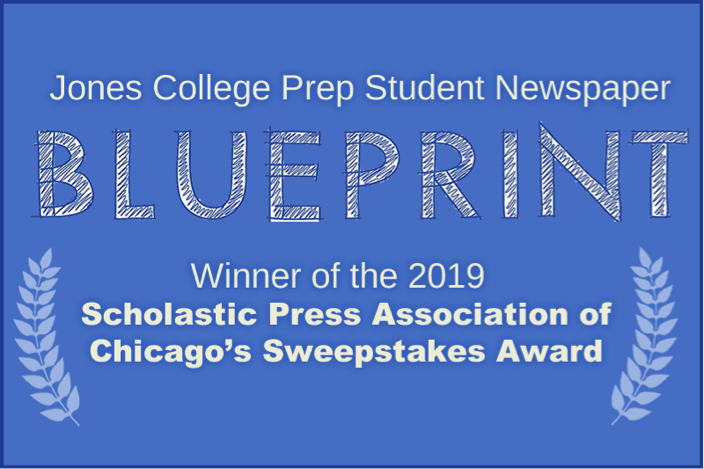 For the last several years, Jones students have had the opportunity to enroll in journalism classes as an English elective. Students gain invaluable, hands-on experience as they learn all aspects of producing a student newspaper, the JCP Blueprint -- from reporting, editing, photo journalism, design and layout, to production and promotion.
JCP's Blueprint was honored this past March with the Scholastic Press Association of Chicago's Sweepstakes Award, the highest honor for a scholastic newspaper in the Chicagoland area. To see what our Jones journalists are covering, check out the paper's website: www.jonesblueprint.com.
E-sports at Jones -- Testing Skills and Taking Competition to the Digital Realm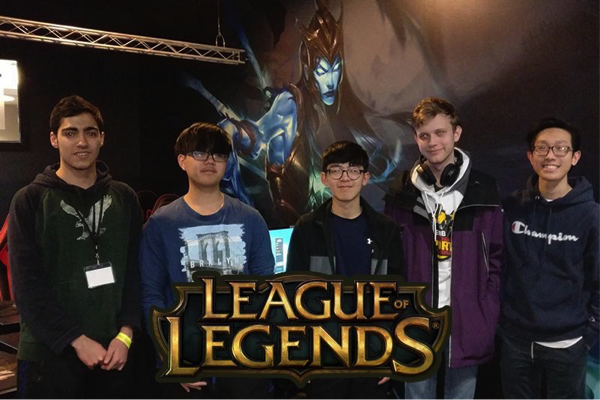 Jones has joined the phenomenon of E-sports -- the fastest-growing platform for competitive gaming, allowing student to compete in multiplayer video games. Jones' League of Legends team recently won the Illinois State Championship. Unbelievable play and great production.
Reading for Social Justice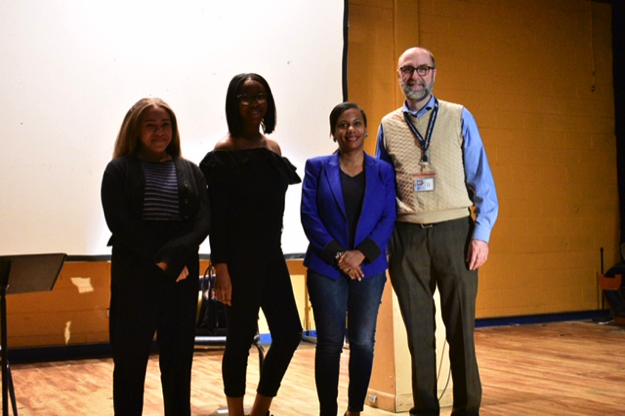 On April 3, Natalie Moore -- WBEZ journalist and author of The South Side: A portrait of Chicago and American Segregation -- spoke about her book and many issues confronting Chicago and the country.
Junior Olivia Littleton of the Black Student Union and junior Taylor Carroll of Black Leaders and Mentors asked questions generated by the student body about housing, segregation the Chicago Public Schools, racism, neighborhoods, development, politics and journalism.
The event was part of the school library's year-long African-American Racial Justice Book List Initiative.


Alumni Events
Jones Alumni Night at the Theatre
Thank you to our alumni and alumni parents who attended the second annual Jones Alumni Night at the Theatre. Guests enjoyed a casual reception in the south building mezzanine before attending the hysterical spring musical, "Spamalot". In addition to Harold Kulat, Class of '40 (see Alumni Spotlight), we welcomed graduates from the 70s, 80s and the last few years. The constant across all classes is our alums' appreciation of their Jones experience. Regardless of the building or era or their time at Jones, the opportunities and experiences Jones provided changed their lives. We all know how this certainly continues for today's students. Never underestimate how lucky we all are to have Jones a part of our lives!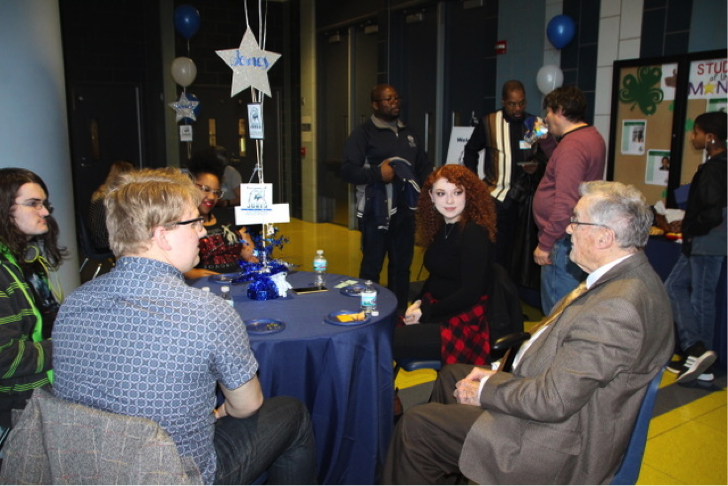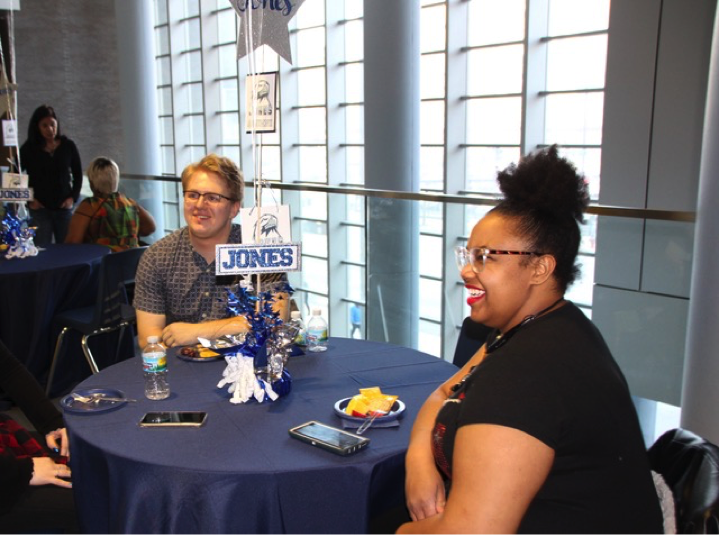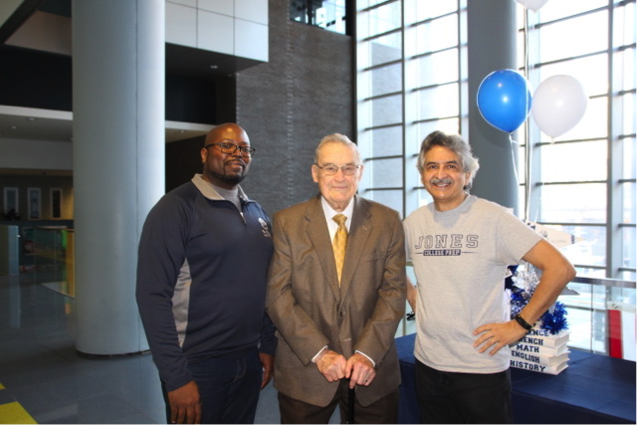 Harold Kulat (center) pictured with Vice Principal Eric Mitchell (left) and Manny Onate, Class of 1976 and current parent.


Alumni Spotlight
Harold Kulat -- Class of 1940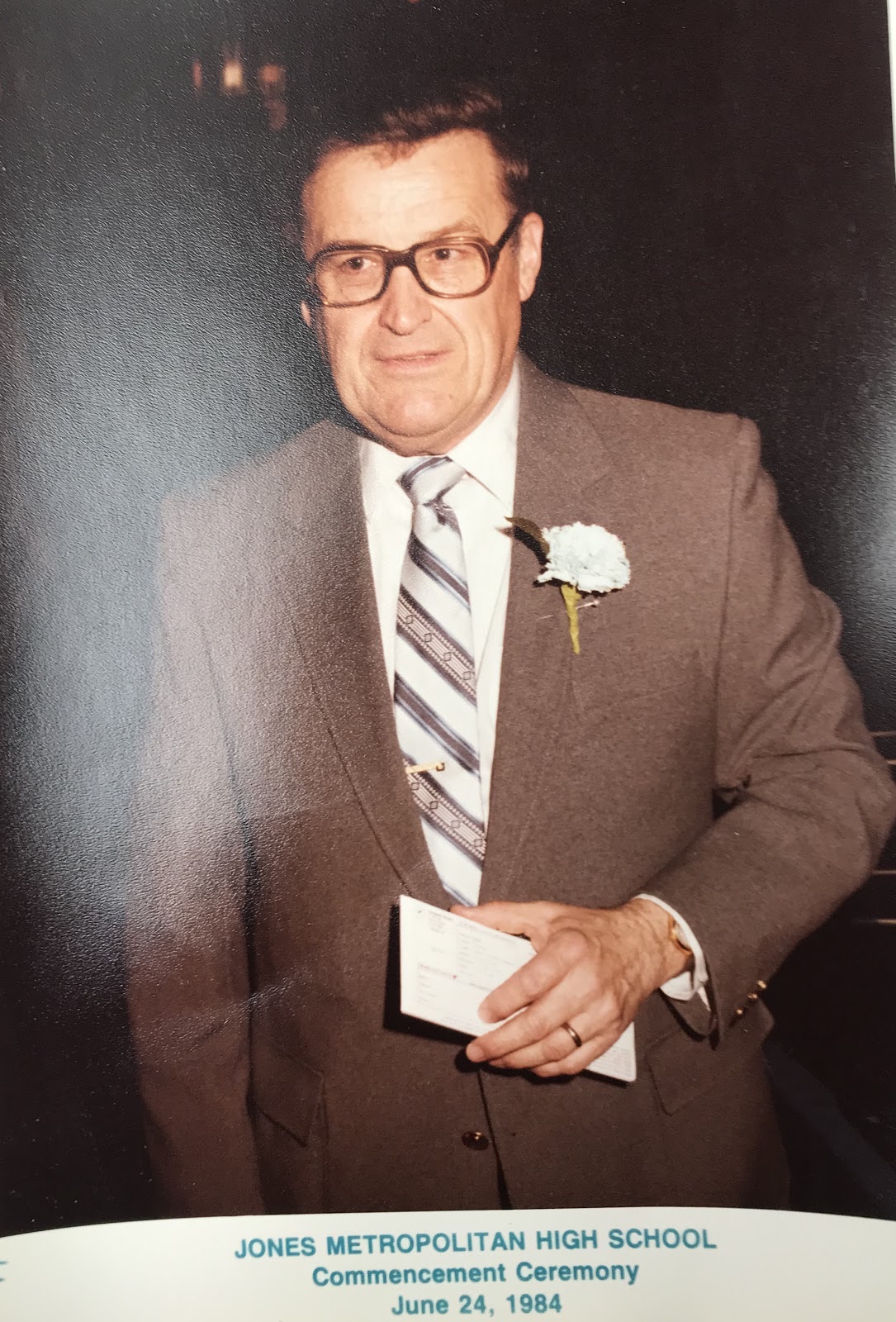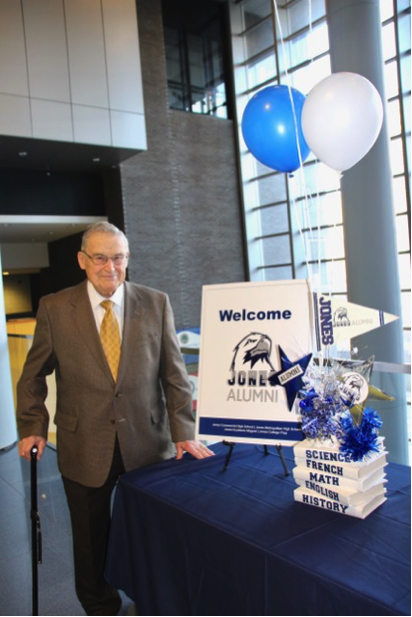 Harold Kulat has been a part of Jones since its inception in 1938. He was in the very first graduating class, returned to teach at Jones for more than 30 years and is now a respected alum. So to say that Jones is a special place to him is an understatement.
As a Jones student, Harold left his neighborhood on the west side every day to join classmates from across the city to get his vocational education. "That was a big deal then," he recalls. "Coming downtown and meeting other young people from other neighborhoods, especially the north side, is one of the greatest experiences of my life. My neighborhood was heavily ethnic, and the north side was a different world to me. Nowadays, young people get around, but back then, we lived and stayed in our sector of the city."
Harold says the beauty of Jones Commercial was that they placed him in a job at an insurance agency upon graduation, after which he was in the army for three-and-a-half years. Upon returning to the U.S., Harold attended DePaul and U of I, then went for his Master's degree in history to Northwestern. He came back to Jones to teach in 1956 and retired in 1990.
Throughout the years, Harold has seen the changes of both the neighborhood and Jones. "The burlesque shows left," he laughs. "The dinky stores that were on State Street are gone. We saw the disappearance of printing shops. When the [North] building was built, that was really the first of any new building in the South Loop area, maybe the beginning of the renaissance of the neighborhood. It's considerably changed. I'm amazed as I drive up here."
"As I look back, there have really been three schools here," he says. "First, that little box that I attended. And then in '67, the brand new building. Then when computers came along, stenographers were no longer needed, so everything changed, and Jones changed from a vocational school to a college prep high school." Now, Harold is amazed at our current new building, the South building, with state-of-the-art technology, and a pool and gym! We are very lucky to have Harold Kulat share his experiences with us.
Class Notes
Lori (Loretta) Burnham -- Class of 1967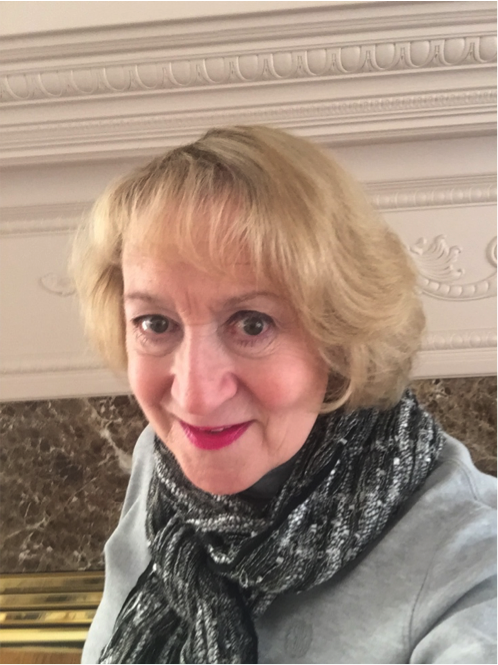 Lori sends greetings from the Rocky Mountains, where she is retired and living with her husband, Robert, in Estes Park, Colorado. Lori commented on how she loves hearing news from Jones and learning what the Jones experience is like for current students. Lori fondly remembers being in the first class to graduate from the "new school building" at State and Harrison in 1967 and being crowned the Class of 1967 prom queen -- which she recalls may have been a result of her name being drawn. Upon her graduation from Jones, Lori began her 33 year career at Amoco Corporation. Lori credits her time at Jones in preparing her for her professional success -- starting as a secretary, advancing to supervisory positions and eventually becoming a corporate training instructor, where she designed and managed training programs for employee personal development and skill building. Lori shared, "My heart smiles when I think of my days at Jones. Chicago is my hometown and will always be 'my kind of town'. Happy Jones Days!"
Nadia Gronkowski -- Class of 2010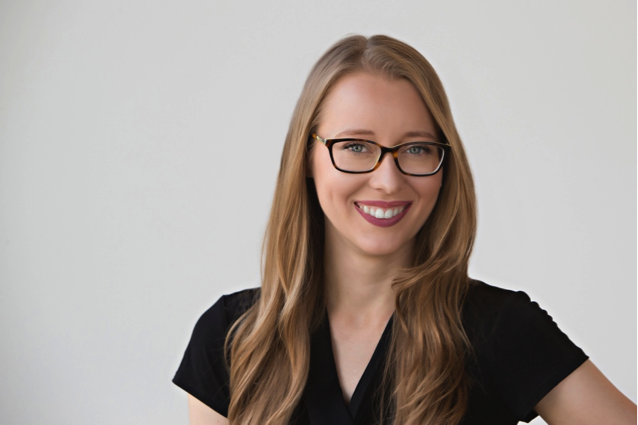 Nadia recently started a new job as a program associate at the Ounce of Prevention Fund. She is currently working to advance the work of the Educare Learning Network, which is a nationwide network of high-quality preschools serving children ages 0-5 and their families. Prior to this position, Nadia worked for two years in Springfield, Illinois, as a program coordinator at Springfield's first and only business and social innovation incubator. Nadia holds an M.A. in Environmental Conservation Education from New York University's Steinhart School of Culture, Education, and Human Development and a B.A. in Environmental Studies/Legal Studies from Lake Forest College.


Throwback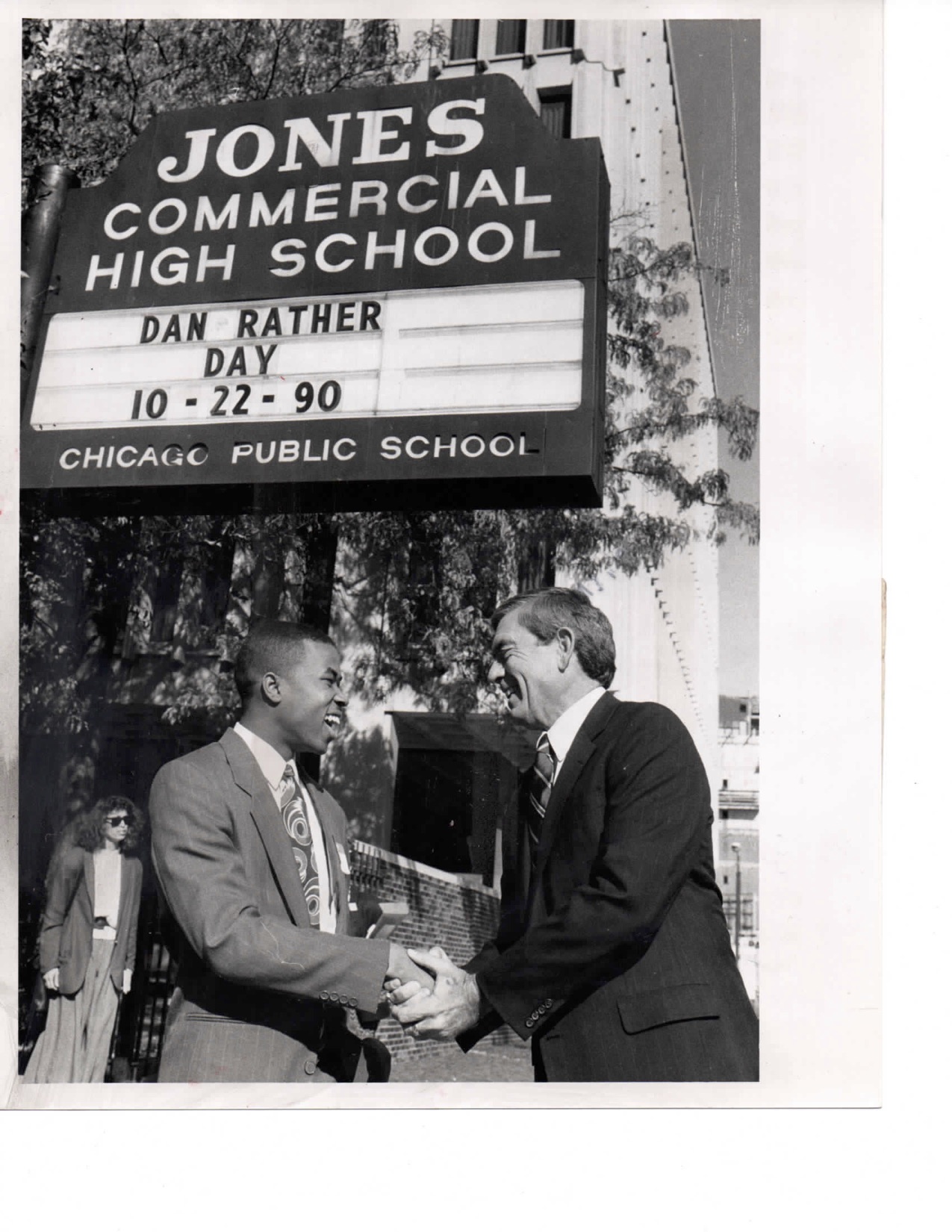 CBS journalist, Dan Rather, is greeted at Jones Commercial High School in Fall 1990 by Eric Brooks, then a current Jones student. Mr. Rather visited campus to meet with Jones journalism students, where he encouraged students to take an interest in events, politics and cultural shifts happening on the global stage.


Class of 2015
It seems like yesterday that we watched the Class of 2015 graduates walk across the Auditorium Theatre stage, and we expect that many of you have recently or will will soon be celebrating college graduations this spring. Best wishes to all of you -- hoping your Eagle wings are still with you as you keep soaring in your adventures. Whether you are already pursuing your passion or are about to embark on a new journey, we would love to hear from you about your current and future endeavors. Send your submissions to:
Remember: We Want to Hear From All of You
Please keep us updated on your news, major milestones, professional accomplishments, etc. Send your updates and news to:

And remember to encourage other Jones alums to join the Jones Alumni Network!
Save the Date for Upcoming Jones Events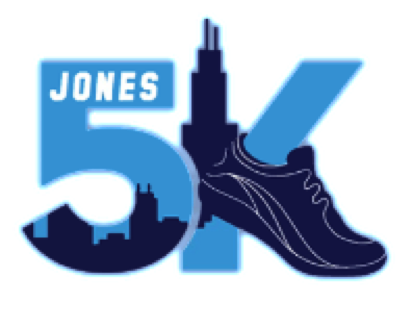 Make plans to participate in the 2019 Eagle Walk/Run on Sunday, October 20th. Alumni are encouraged to show their support and join in beautiful Washington Park for a morning walk or run through the park.