Class Notes
Natalie Karwacki Kurka and Ina Steinback - Class of 1964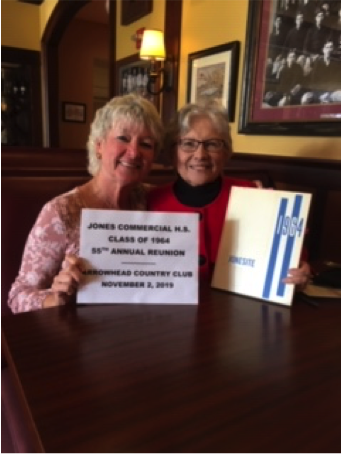 Ina Steinbach (seated on the right) and Natalie (nee Karwacki) Kurka celebrated their 55thJones Commercial High School reunion at Arrowhead Country Club on November 2, 2019. From a graduating class of 47, Ina and Natalie located three classmates and schedule a yearly reunion to stay connected and reminisce.  We recently caught up with them to ask what they are doing now.
Natalie has fond memories of the "old" Jones, wearing hats, gloves and pumps, the well-worn wooden stairs and gym clothes reminiscent of a onesie!  After graduation she launched a 56-year career in office management while attending night classes at Harper Junior College for 1-1/2 years. After retiring from the business world at 72, she is currently working in the Plainfield District 202 Schools. She and her husband of 52 years are enjoying life with their two daughters and their husbands and four wonderful grandchildren.
Ina remembers her Jones days and the "most fun" of all her school years; they just passed by too quickly.  After her boys were born, she was a stay-at-home mom until they were in school full-time.  She worked part-time until 1980, when she started a nearly 30-year career with BMW and retired at age 61 at the end of 2006. During her working years she also managed to earn a B.S. degree from Elmhurst College.  Ina's hobby has always been traveling and managed to visit all six continents and is adamant about never going to Antarctic.  Her most memorable trips are to Jamaica with her two sons, daughter-in-law, and two grandsons.
They both agree they received a strong foundation to make smart choices, both in life and in business, and are grateful for the guidance they received from both teachers and staff at Jones Commercial High School.
Marietta Guarino Brown – Class of 1966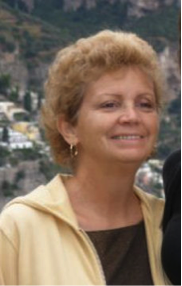 Marietta Brown (nee Guarino) sends greetings from sunny South Florida. Merietta shared that she was in the very last class in the old four-story building before the North Building opened and she remembers the experience of traveling 90 minutes each morning via bus and the El to come downtown to Jones every day, which she noted was an education in and of itself. Marietta recalls special events at the Conrad Hilton and school dances at the Merchandise Mart. Current students might be surprised to know that there was a senior class weekend trip to a Wisconsin dude ranch where the locals came to meet and drive the seniors to the ranch in their personal vehicles (Marietta describes it as "95 girls with luggage!").  Marietta still proudly wears her Jones ring every day. Before moving to Florida, Marietta enjoyed a long career as an administrative assistant.
Sally A. Nuamah - Class of 2007
Sally A. Nuamah is an author, filmmaker and faculty member at Northwestern University in Urban Politics in Human Development and Social Policy. Her scholarly research is focused on issues of race, gender, education policy and political behavior. Sally earned her BA in Political Science and Public Policy at George Washington University and then she continued her academic career as a pre-doctoral fellow at the University of Pennsylvania. She later earned her MA and PhD from Northwestern in Political Science. Sally has earned many academic distinctions and awards including being named in Forbes Magazine's "30 under 30" in Education.
Kendra Chapman - Class of 2008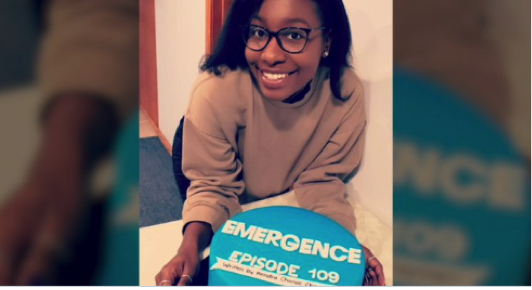 Kendra Chapman was recently featured on ABC Chicago News as a writer for the sci-fi show "Emergence". Click here to watch the segment. Kendra currently lives in Los Angeles, California.